Mk2 Alpine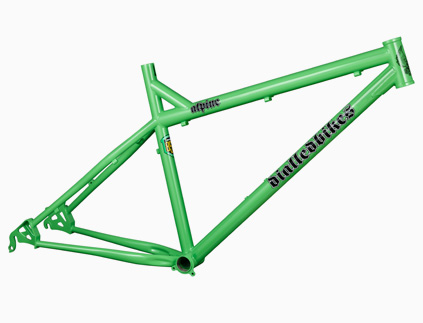 Designed in the UK. Tested and developed exclusively in the Alps.
When Billy at Dirt Magazine was looking for the ultimate hardtail to do the 2007 Mega Avalanche on, he chose the Alpine. It's also the tool of choice for the guides at trailAddiction.com who ride their Alpines day in day out covering thousands of genuine Alpine trail miles every season.
Made from a mix Reynolds 853 double butted air hardened cro-moly and 4130 cro-moly tubes, the Alpine is a hardtail frame designed for tearing up and down proper mountain trails. The Alpine works best with a 120-160mm travel suspension fork so the rider can dial in the ride and amount of travel they want based on the type of trail that lays in wait.
Frame weight is around 5.5lbs. If you're the type who thinks that's too heavy, you probably don't ride hard enough to justify owning an Alpine.
Alpine specification
Sizes:

16" and 18" (measured from centre of BB to top of seat tube)

Tubing:

Reynolds 853 double butted air hardened cro-moly front triangle, ring reinforced cro-moly head tube, 4130 cro-moly seat stays and chain stay

Effective Top Tube Lengths:

16" frame = 22.25"
18" frame = 23.25"

Head Angle:

68.5 degrees
(recommended travel 130mm)

Seat Angle:

74 degrees

Chain Stay Length:

16.73"

BB Height:

12.76"

Seat Post Size:

27.2mm

Seat Clamp Size:

30mm (29.8mm may also fit)

Front Mech Size

34.9mm top pull (shims supplied with frame)

BB Shell:

73mm with integral ISCG

Max Rear Disc Size:

185mm

Colours (subject to change without notice):

Translucent red and Kawasaki green
£395 including UK mainland delivery
To order a Dialled Bikes product, please e-mail us to check availability and current colours/prices.