Love/Hate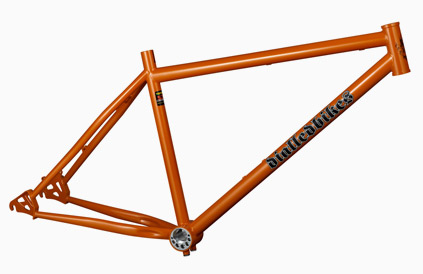 Love singlespeed? Hate singlespeed.
Who cares? Just ride it.
The new Mk2 version of the Love/Hate frame has dispensed with the mech hanger of its predecessor, but it's just as versatile as before thanks to the Phil Wood eccentric bottom bracket (EBB) system. You can set it up as a pure singlespeed, or you can fit some gears to it by either using a hub which can take a bolt-on rear mech or, as many Love/Hate riders have done already, hooking it up with a Rohloff or Shimano Alfine hub gear system.
The Mk2 Love/Hate is still made of Reynolds 520 cro-moly steel, is clean and simple in design, and there are no ugly or unreliable sliding dropouts to spoil its good looks or functionality. You can also forget any stories you might have heard about EBBs creaking as the Phil Wood EBB works impeccably and in silence!
Love/Hate specification
Sizes:

15.5" 17.5" & 19.5" (measured from centre of BB to top of seat tube)

Tubing:

Reynolds 520 double butted cro-moly front triangle, ring reinforced cro-moly head tube, 4130 cro-moly seat stays and chain stays

Effective Top Tube Lengths:

15.5" frame = 23"
17.5" frame = 23.75"
19.5" frame = 24.4"

Head Angle:

71 degrees
(recommended travel 80-100mm or 440mm rigid fork)

Seat Angle:

73 degrees

Chain Stay Length:

16.73"

BB Height:

12.25"

Seat Post Size:

27.2mm

Seat Clamp Size:

30mm (29.8 may also fit)

Front Mech Size

N/A

BB Shell:

68mm

Max Rear Disc Size:

185mm

Colours (subject to change without notice):

Ivory & Orange (both pearlescent powder coat finishes)
£325 including UK mainland delivery
To order a Dialled Bikes product, please e-mail us to check availability and current colours/prices.